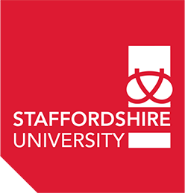 Staffordshire University has a long and proud history of providing high quality, progressive and inclusive higher education, with more than 15,000 students and 1400 staff members. Staffordshire University has a long history of coordinating and participating in EU funded projects including, Erasmus+, Horizon 2020, Framework Programme 7, TEMPUS, EDULINK, Lifelong Learning Programme and Interreg.
Staffordshire University has a number of specialised research centres one of which is the Centre for Health and Development (CHAD). The Centre for Health and Development (CHAD) is an innovative partnership between Stoke-on-Trent City Council, Staffordshire County Council and Staffordshire University. Its purpose is to contribute to the reduction of health and social inequalities and improve the health and wellbeing through carrying out high quality translational and internationally recognised research, emphasizing on eldery people.
Staffordshire University has an internal Quality Improvement Service which provides a range of quality assurance and improvement services to the Faculties, Schools and Services within the University.
The School of Health and Social Care at Staffordshire University trains a wide range of Nursing, Allied Health and Social Welfare Professionals. Its focus is on Higher Education, but the School has strong links to Further Education Colleges, along with both public and private providers of health and social care. In addition, members of academic faculty produce research on a range of topics concerning carer support and health inequalities.
The Centre for Health and Development provides a focus for this research and development activity. The project team have over twenty years' experience of developing teaching and learning material at a variety of levels (from undergraduate to post graduate) in the field of ageing care services and are able to draw from multidisciplinary expertise for this project having worked with a range of disciplines including nursing, psychology, biology, philosophy and theology.